Post-Event Recap of Develop Digital Future Workshop 2019​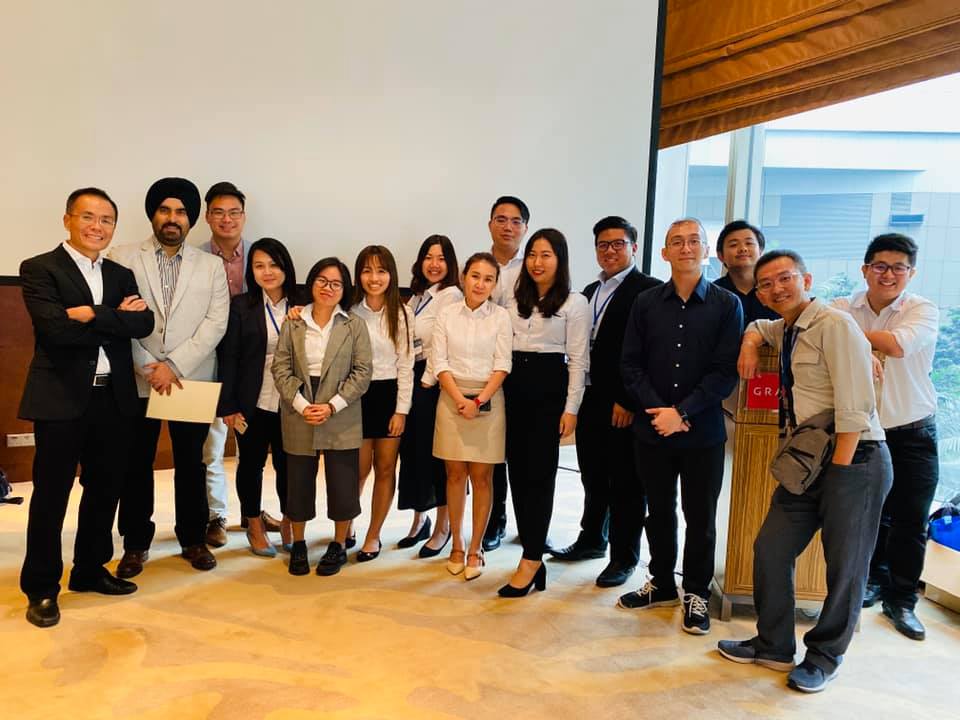 Post-Event Recap of Develop Digital Future Workshop 2019
On 14th of November 2019, Reg.Asia organized Develop Digital Future: Cyber Security Management Made Easy Workshop 2019 with the sponsor from DigiCert, which specially designed for IT specialists in cyber security team, departments or segments. The workshop was held in Grand Hyatt Kuala Lumpur successfully. Develop Digital Future 2019 workshop was a closed event and approximately 30 invited companies were in attendance. During the workshop, attendees shared opinions and thoughts on importance of cybersecurity to their companies and trends in IT industry in near future. With the rapid growth in cloud adoption and the current global data explosion, protecting business's critical data and securing cloud network is more important than ever.
1. TK Tan, CEO of Qinetics Group
Topic: Ushering in a new era of internet security
TK Tan is widely known as the domain name industry pioneer in Asia. As the CEO of Qinetics Group since year 2002, TK has founded several Internet businesses namely wholesale platform for resellers (WebNIC), Registry-Registrar Platform (RegistryASP) and Managed IT Service Provider (Qloud). WebNIC focus in accelerating the business growth of reseller channels. Through a network of 5,000 hosting providers, ISPs and Web Designers, WebNIC manages domain name, digital certificates and website security tools for 1.5 million customers.
2. Sarabjeet Khurana, Country Manager of DigiCert in South East Asia
Topic: DigiCert 2019 & Beyond
Sarabjeet Khurana is responsible for the overall management, strategic direction and development of the TLS/SSL Certificates business in South East Asia region. He has rich and extensive experience of 25 years in the IT industry and has held a variety of sales & leadership positions at companies like SAP, Business Objects and Computer Associates in the past.
3. Gabriel Chan, Sales Engineer of DigiCert
Topic: Securing the Future
Gabriel Chan is an experienced Sales Engineer with a demonstrated history (8 years) of working in the InfoSec industry, primarily focusing on Asia Pacific region. He is also skilled in Servers, Troubleshooting, Enterprise Software, SSL Certificates and Team Leadership Certificates and Team Leadership.
4. Richard Davies, Associate Managing Director of APAC Cyber Risk Kroll
Topic: Is there a ROI in Cyber Security?
Richard Davies is an associate managing director in the Cyber Risk practice of Kroll, a division of Duff & Phelps, based in Hong Kong. Richard has nearly 20 years of hands-on experience managing, leading and performing a wide range of technical cyber security services, such as red and purple team attack simulations, security architecture reviews, product assessments, code reviews, reverse engineering, security research and security training.
5. C.W.Wang, General Manager of Qinetics MSP Sdn Bhd
Topic: Beyond Security
C.W.WANG is General Manager at Qinetics MSP Sdn Bhd d/b/a Qloud MSP in Kuala Lumpur, Malaysia. Passionate about the evolution of computing and the relationship between humans and computers, Wang has a 19-year-long record in improving organizations' IT operations, ensuring efficiency, compliances, business continuity, and cybersecurity.
Topic : Modernising your cyber security approach
Moderator : Ebbie Wong, Assistant General Manager of WebNIC
Panelist : 
Gabriel Chan of DigiCert
Sarabjeet Khurana of DigiCert
Richard Davies of Kroll, A Division of Duff & Phelps
C.W.Wang of Qloud MSP
Nick Lai, Network System Engineer of Giti Tire Pte Ltd was invited to share about his challenges and difficulties that he faced while maintaining his company technology advancement.
Thomas Lim, Director of Tech Risk Management of CIMB was also invited to voice out his perspective on ROI in cyber security in banking industry.
DigiCert Certified Platinum Partner Achievement
(L-R) Susan Lien, Co-Founder of Reg.Asia, Sarabjeet Khurana, Country Manager of DigiCert in South East Asia, Richard Davies, Associate Managing Director of APAC Cyber Risk Kroll,

TK Tan, CEO of Qinetics Group,

C.W.Wang, General Manager of Qinetics MSP Sdn Bhd and Gabriel Chan, Sales Engineer of DigiCert.
Congratulations to Web Commerce Communications Limited for the Outstanding sales achievement to earn a platinum partner status!
Congratulations to the PS4 Winner, Wan Syukri bin Wan Mansor, Technology Specialist of McDermott Asia Pacific Sdn. Bhd. !
Congratulation to the IPhone 11 winner, Mr. Suresh Chandran, Security Lead from BigPay!
Thanks for Making this Workshop Successful!
We'd like to thank all participants who attended and made Develop Digital Future : Cybersecurity Management Madeeasy Workshop 2019 a success! Special thanks to our event sponsor #DigiCert and #ShortDotSA. We also appreciate our invited speakers Mr. C.W. Wang, General Manager of #QLOUDMSP and Mr. Richard Davies, Associate Managing Director APAC Cyber Risk #KROLL for the excellent sharing. It was a fruitful workshop.
We look forward to see you again in our next coming events. Stay tuned!