What is SSL Certificate and Its Differences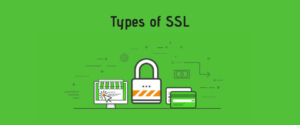 As the world evolve so does everything that comes with it. Thus like the world, thieves and hackers will often refine their arts of information stealing, tempering and leaking, so if you ever think that you are safe just because you are at home lodging on your couch while making a purchase of that on-promotion sneakers or heels, well guess again cause most probably your online vendor have not registered for an SSL certificate.
WHAT IS SSL CERTIFICATE?
Probably now you are wondering what is a SSL certificate? Or how do I know that the website I'm making payment to is secured? Well first and foremost, SSL is short for Secure Sockets Layer and it is a cryptographic protocol for establishing an encrypted connection between a client and a server (i.e. you as the visitor and the website you visit) or in layman terms SSL provide you extra security. With a SSL certificate you and also your website owner can rest assure that whatever info that is being shared is secure and well protected.

How do I know that the website is secured with a SSL certificate?
Ever wondered why certain website you visit, their address bar (the company's name) has a green font or the fact that in the address bar has the word 'Secure' with a lock icon in it? Well the answer is simple, that particular website has a SSL certificate installed. The difference here is the level of security that those indicators mean, because if GREEN ADDRESS BAR means Top-level protection and security meanwhile 'secure' with the lock icon means that it has the level of low to mediocre.
Having a SSL certificate installed on a website offers a host of advantages for your business and you as a customer, including securing customer personal data from third parties, boosting customer confidence to engage with the website and increasing the website SEO ranking cause search engines like Google loves secure website, therefore it is a great way to enhance the website ranking status.
There are 4 kinds of SSL certificate to choose from. Although all SSL certificates provide protection to the user and the websites, they differ in level of validation between your business and the Certificate authority.
Types of SSL
Domain Validation (DV)
Organization Validation (OV)
Extended Validation (EV)
Domain + Organization

Validation

VALIDATION PROCESS

Requires applicant to verify that he/she is the owner of the domain and the domain registrant e-mail address.

Requires applicant organization info to make sure it is a legit company:-

*Org name

*Physical address

*Phone no

The issuing vendor or CA totally verifies that applicant is a legitimate business and in good standing above and beyond an OV verification process.

It verifies the domain owner + applicants organizational info to be validated.

SUGGESTED FOR

Small to medium-sized business or Personal

Best use for any

company/organization

Website.

Large companies and online (e-commerce) stores.

Large companies and online (e-commerce) stores.

SECURITY LEVEL
LOW -> MEDIOCRE
MEDIOCRE -> HIGH
TOP SECURITY
HIGHEST FORM OF SECURITY
If your Web site doesn't have a SSL Certificate and in need for more information, contact us at Reg.Asia we can help you choose the right SSL certificate for your needs, and also advise you on a range of other topics including online brand protection and digital brand management. These are the brands of SSL certificate that is offered at Reg.Asia, Comodo EnterpriseSSL, Comodo PositiveSSL, ComodoSSL, Comodo InstantSSL, GlobalSign, Symantec, Thawte, GeoTrust, and RapidSSL.